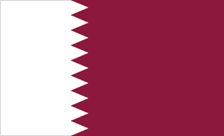 The .QA domain is designed for businesses and individuals wishing to develop a brand or service in Qatar. .QA domain registration time is 3 days.
Qatar is a Persian Gulf country located in the east of the Arabian Peninsula. The only land border neighbor is Saudi Arabia.

It is surrounded by the Persian Gulf. Northwest of Bahrain, west and south of Saudi Arabia, east of United Arab Emirates and north of Iran. Face measurement of the country; 11.571 km². The Capital; And Doha.