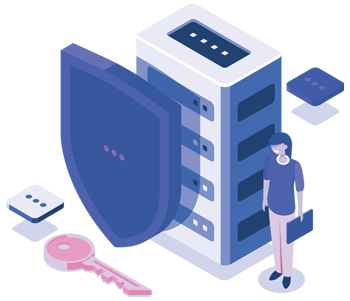 The company has been rewarded with dozens of awards for its efforts, for providing enhanced customer value, world-class customer support and market growth leadership. DigiCert's high verification standards enable our customers to gain the trust of their customers and to grow their business continuously. DigiCert played an important role in designing the core requirements of Cas and often exceeded minimum standards for issuing SSL certificates. SSL Certificates DigiCert, regardless of server type, number of servers or number of domains secured by an organization, offers a variety of SSL certificate options designed to meet the needs of all types of organizations.
Standard features with any DigiCert SSL certificate include:
- 2048-bit SSL Secure Layer with TLS Encryption
- Compatible with all major browsers
- Unlimited Free Reposts
- Unlimited Server License
- Robust review to ensure strong Authentication
- Secure Site Seal
- Compatible with Apache, IIS, Tomcat, Exchange Server and other servers
- Compatible with Linux, Windows and other operating systems, DigiCert leads the market by providing value-added items that set itself apart from the competition and contribute to the company
DigiCert Wildcard SSL Certificates
DigiCert's WildCard SSL certificates, secures the entire area using SANS technology. Each DigiCert WildCard SSL Certificate comes with Unlimited Server License, therefore, whether the client has one or one hundred servers, he only pays once. In addition, DigiCert customers are required to ensure that each server or certificate installation has a unique private key, and this offers the option to get duplicate certificates issued to unique private keys / CSRs for free. This is just one way DigiCert adds value by helping the user strengthen security across the entire network.
DigiCert Standard SSL Certificates
DigiCert's single-name SSL certificates, comes with all the standard features that build DigiCert's reputation for excellence. Additionally, these certifications include unlimited free reissue, professional site seals, and a 30-day warranty. With the DigiCert "Plus Feature", users can secure all domain names (ie www.example.com and example.com) with a single certificate.
DigiCert Multi Domain (SAN) SSL Certificates
Multiple domain (SAN) certificates (sometimes known as SAN certificates) are used to allow a company to secure up to 25 fully qualified domain names with one SAN certificate. Each DigiCert multi-area (SAN) certificate comes with unlimited server license and "replication" feature, this makes them ideal for environments that need to secure multiple names in different domains. Also, multi-domain (SAN) certificates are compatible with most platforms (eg Apache, Exchange, OCS etc.).
DigiCert EV (Extended Validation) SSL Certificates
As the validation standards continue to evolve, DigiCert is at the forefront of industry leadership offering Extended Validation SSL Certificates that create the highest level of trust for web users. Companies with a green navigation bar can brand their trust with their customers and it can achieve uninterrupted work. DigiCert's EV certificates use SAN to secure multiple domains (eg www.example.com and example.com in a single SSL certificate).
DigiCert Code Signing
DigiCert's EV Code Signing Certificates, integrated with Microsoft's SmartScreen Application Reputation services to help software publishers gain instant reputation in browsers and operating systems. Programs signed with an EV Code Signing Certificate are for files that are immediately reputable even if they do not have a prior reputation. Reputation helps reduce warning messages and instill confidence in users to run their apps. An EV digital signature from DigiCert helps protect the software against malware, tampering and theft and the demanding Extended Validation process with a hardware requirement to protect the business identity of software companies. DigiCert's rigorous verification can often be completed in hours, rather than days or weeks required by competitors. DigiCert, one of only two Certification Authorities to offer EV Code Signing at launch, offers added value with significant cost savings and award-winning customer support. DigiCert offers EV and standard code signing certificates that run on multiple platforms, including the most common ones like Microsoft Authenticode and Kernel mode signing, Java, Apple and Adobe.
DigiCert code signing certificates, to verify customers that the executed code has not been altered or corrupted, it specifically allows them to digitally sign software or applications that can be downloaded or run online. Generally, a code signing certificate helps ensure that users are running the code they believe they are running and that the code was written by the person or organization to which the certificate was issued.
Enterprise Managed PKI
Managed PKI (Public Key Infrastructure), allows the SSL certificate management to take control for the organizations that need large amounts of SSL certificates, including issuing new certificates and republishing, changing and revoking existing SSL certificates. The ability to directly and instantly manage a business's own PKI needs gives the account manager greater control and eliminates the short waiting time associated with retail demands.