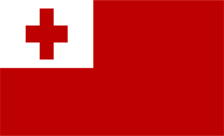 Kingdom of Tonga Domain Extension: .to
The Kingdom of Tonga is located in the south of the Pacific Ocean. The Kingdom of Tonga is an archipelago of 169 islands. This country covers an area of approximately 748 square kilometers. People live on only thirty-six of these islands. The Capital is Nuku'alofa'.
The most important economic activity of the country is service sector, tourism and agriculture. 70% of the population lives on from agriculture. The tourism sector in Tonga has a significant share of overseas workers' remittances.
Tonga gained its independence from England in June 1970. There are 103,306 people on the island. The country has two official languages, Tongan and English.
Tonga Area Code: +676
Tonga Currency: Tonga Pa'anga